Application Service
Kweather releases private weather forecast application for the first time in Korea
Kweather provide more diverse and professional weather information through Kweather weather, golf weather, yellow sand, On Kweather, Kweather VIP application. Variety of weather applications and services can be enjoyed through Kweather iPhone ? Android
'Search Kweather from the App Store / Android Market!
Kweather weather
'All weather' Kweather representative applications!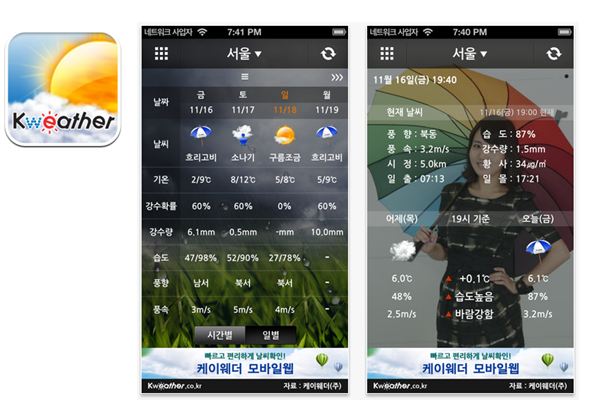 Key Features
1.?More detailed weather information
(Sunrise / sunset times, daily / hourly wind, precipitation, etc. and more detailed weather information provided)
2. Compare Kweather / KMA forecast, and choose your preferences (optional)
3. Themes, such as the major foreign cities (weather and climate), and the airport, mountains, golf course, baseball field provides
weather information)
4. Wallpaper support
5. Weather broadcasting, weather, breaking news, and weather-related news, information provided
6. Severe weather alerts, yellow sand, hurricane information


Kweather VIP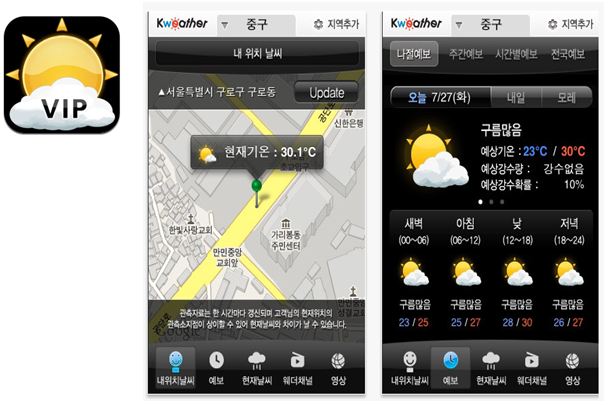 Key Features
1. Provides current weather for my location
2. Take advantage of Kweather owned advanced forecast system, the service provides 1-hour forecasts.
3. Provide weather information all over the country (regional segmentation granularity)
4. Enjoy special weather broadcasting video (weather reporter brought a variety of weather information)


Golf Weather
Enjoy accurately golf course weather information easily!
Accurate current weather and wind information of each course can be provided through Automatic Weather Observation equipment installed on the rounding course.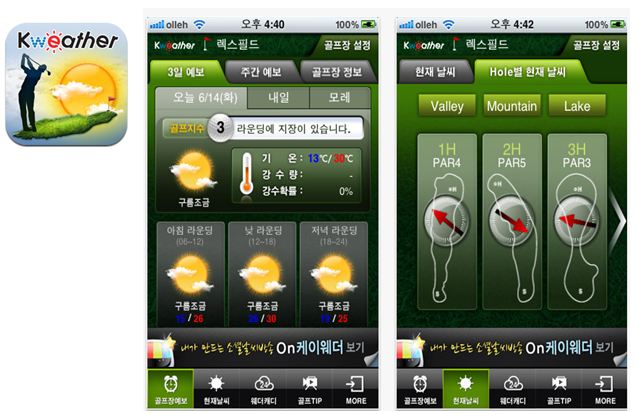 Key Features
1. Golf Index Services (Provide weather information by analyzing the combination of elements of the day's weather and exponent it`s
data)
2. Current and weather forecast service (provide 3 days and weekly forecasts)
3. Golf Course Information (selected golf course location, phone number, etc.)
4. Weather for each hole (wind direction/speed of each hole and the course strategy Introduction)
5. Weather caddy service?(if you set the reserved rounding golf course, date and time schedule in one hour increments (H-1 ~ H +12),
it will tell you detailed weather information, provide push notification service at 7am on the reserved date and 5 hours before the
reserved time)
6. Golf tip videos that describe the professional golfer Park, Sang – Ho player


On Kweather
Applications will be shown to meet a variety of weather and living information, broadcasting and weather information! Professional Kweather reporter introduce today's weather, recommended lunch menu, skin care in accordance with the weather condition etc.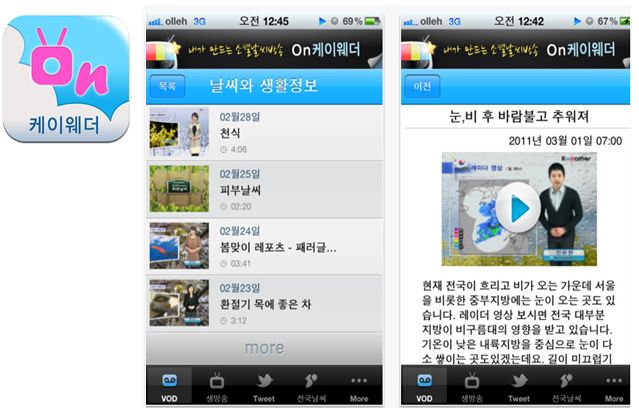 Key Features
1. Providers Various VOD service (delicious weather forecast / lifestyle / weather and lifestyle information / live broadcasting)
2. Very short-term forecasts with Tweet (rapidly changing weather conditions, weather broadcasts, weather forecaster, weather and
living information post)
3. Provides whole domestic current weather and today / tomorrow / the day after tomorrow forecast information